Over the last 2 years changes to the way search works (Google, Bing, Etc.) has and will affect your online business and your park's ability to bring potential guests to your site.
1. Mobile search has now overcome desktop searches and Google has announced that mobile search is the engine they will concentrate on. That does not mean that desktop searches will be ignored but mobile search is where the future is for Google and small businesses such as yours .
2. A well designed and updated website that translates to all mobile devises is paramount for booking new guests. Google now judges your site if its mobile friendly and your search rankings may suffer if its not.
3. Local Citations (Yelp, Yellow Pages, Google+, etc.) and reviews in those services are now used as a search signal for Google local search rankings.
These 3 changes provide a very important opportunity for your park and MorePro has the experience and strategies to insure your success in this changing online world .
How Your Website Can Affect Reservations
WEBSITE ISSUES: Old & poorly maintained websites that do not properly showcase your accommodations, Maps to your campground, online reservation forms and amenities are costing you reservations. A recent Poll of RV owners showed that potential guests searching for parks can judge you by your website with 92% of respondents stating it affected their decision when booking a reservation. If your website is old and not properly maintained, RVers may assume your park is the same way.
MOBILE SITE ISSUES: A nationwide RV park operator confirmed that during the past year 56% of first time visitors used a mobile device to find their website.  If your website does not pass Google's Mobile Website Test then your site may have trouble being viewed by half of your potential guests. They maybe going to your competitor's mobile friendly site.
LOCAL SEARCH ISSUES: Up to 75% of Campers surveyed report that on average they camped within 200 miles of their home.  This makes Local Search one of the most important strategies in an RV Park marketing program. You must have Local Citations (Google My Business, Bing Local, Facebook, Here.Com, etc.) to rank well in Google's 1st page local search results and MorePro can get you there.
Marketing That Works for Your Park!
" Over the last 4 years, MorePro Marketing has continued to increase our traffic through organic Search Engine Optimization marketing which has increased our parks reservations each year. Their services have provided a solid return on our investment! "
" Since 2005, Leisure Systems Inc. – has depended on MorePro Marketing to deliver high-end Search Engine Optimization, Website Programming and Hosting for our company and our franchisees online presence. Over the last 11 years, their expertise in online marketing has helped to deliver over 9 million visitors to our family of websites. The motivating factor for our continuing relationship is our trust in their people and their ability to deliver what they promise. "
MorePro's RV Park Marketing Programs.
The Last Website You'll Ever Need
Start Increasing Your Website Traffic and Reservations
With a New MorePro Mobile-Friendly Website
MorePro's Jellystone Park Themed Websites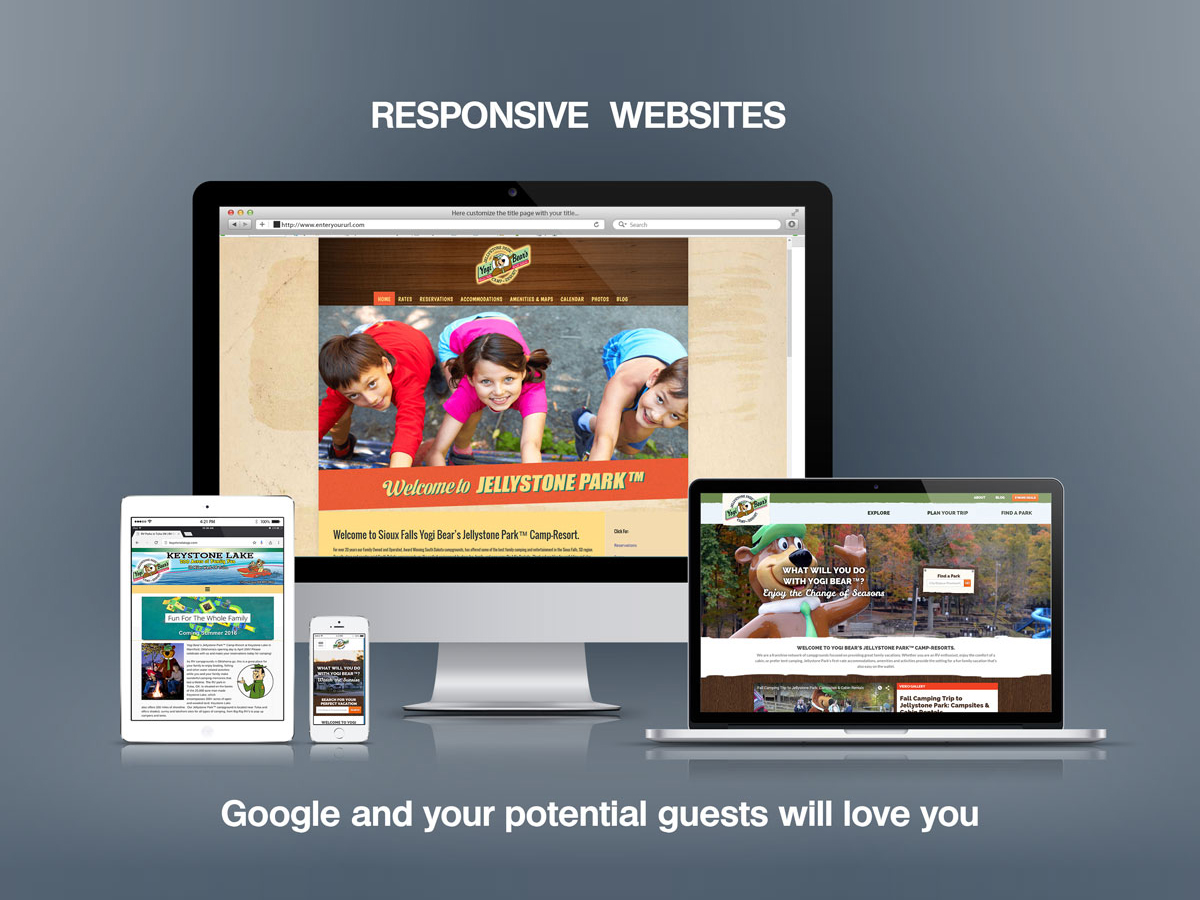 FILL YOUR PARK
CALL US TODAY! (866) 249-2432